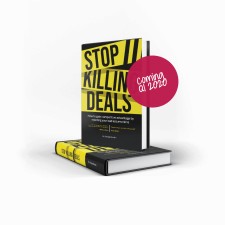 STOCKHOLM, January 7, 2020 (Newswire.com) - ​​​Stop Killing Deals, a new book by the creator of award-winning Sales Enablement CRM Membrain.com, reveals the deadly assumptions that plague the sales industry, and how to unmask them.
"Despite an explosion of technology and tools, the sales industry has not seen a lot of progress in sales effectiveness in the past decades," says Brontén. "For every problem, there are a hundred new tools, but no real solutions."
This statement may seem startling coming from a pioneer in sales technology. Brontén founded Membrain.com, a leading sales enablement CRM, in 2012, and has led the charge in advocating for better, more effective technology to serve the needs of modern complex b2b sales teams ever since.
"Unfortunately," says Brontén, "while sales technology has grown rich in features and capabilities, there are deeper problems in our industry that remain unaddressed and continue to eat away at our effectiveness."
In Stop Killing Deals, Brontén contends that the sales industry has been looking in the wrong places to place blame for its lack of substantial improvement. The real culprit, he says, is not technology, training, leadership, or the salespeople themselves. Instead, it's the subconscious assumptions we make about sales.
In the first half of the book, Brontén reveals the three core bad assumptions, along with how each one impacts sales effectiveness. Then he demonstrates how to unmask these assumptions inside the organization, remove their sting, and replace them with supportive beliefs that permit a more effective approach to sales.
In the second half of the book, Brontén lays out a framework for achieving world-class sales performance, based on a correct understanding of the essential humanity of both salespeople and buyers.
The book is presented in an interactive format. It is designed to present a quick and engaging read for sales leaders and executives while providing access to a deeper dive into each of the book's key points via an online resource center. In the resource center, readers can download tools, calculators, white papers, and templates to assist them in executing the book's principles.
"My hope," says Brontén, "is that this volume will provide a new way to structure complex b2b sales organizations to yield substantial performance gains while honoring the basic humanity that connects us all. In a world saturated by more and more technology and inundated by artificial intelligence, I believe returning to our humanity is the only real way forward."
The book will be available in March. The first chapter is available here.
About George Brontén
George Brontén is a life-long entrepreneur with 20 years of experience in the software space and a passion for sales and marketing. With the life motto "Don't settle for mainstream," George is always looking for new ways to achieve improved business results using innovative software, skills, and processes. He shares his thoughts on the award-winning blog "Art & Science of Complex Sales."
Source: Membrain
Share: