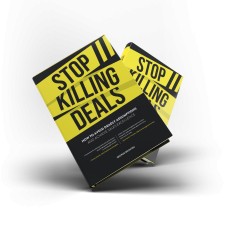 STOCKHOLM, March 31, 2020 (Newswire.com) - ​​​An informative new book, "Stop Killing Deals," unmasks three damaging assumptions that kill deals and harm sales organizations. It follows these disclosures by presenting a framework for defeating them and achieving scalable, world-class sales performance. Implementing the recommendations made in the book will transform the way that salespeople sell into a competitive advantage.
"Stop Killing Deals" was written by life-long entrepreneur and Membrain creator George Brontén. Brontén knows a thing or two about behaviors that fuel sales success. His creation, Membrain, is an award-winning sales enablement CRM that empowers sales teams to execute their strategy, provide more effective coaching and build predictable growth.
Far too many sales teams operate according to harmful assumptions that overlook the importance of taking human nature into account when making and selling pitches. As a result, sales continue to decline despite these organizations spending billions of dollars each year on sales training and technology.
"Stop Killing Deals" debunks the misconception that relying solely on technology is the answer to increasing sales. Packed with valuable insight, easy to digest and quick to read, the book teaches readers how to do the following:
Slaughter the deal-killing monsters that lurk in buyers' subconscious
Give their sales team the tools they need with sales enablement
Align their strategy, process and methodology to achieve scalable, world-class sales performance
Build their sales coaching around their sales process to generate exponential results within complex business-to-business (B2B) sales environments
Understand the essential humanity of their sales workforce, empowering organizations to more effectively recruit, train and nurture the people on their team to ensure they win more deals
Master their sales technology and turn it into their hard-working servant
"Stop Killing Deals" allows readers to take a deeper dive into each of the book's key points, with access to an online resource center. There, they can obtain sales-accelerating information from a wealth of downloadable resources and tools.
This valuable sales tool has already received rave reviews.
"No other sales book pinpoints the problem like 'Stop Killing Deals' does and that's why it should be required reading for every B2B sales leader and CEO on the planet."
— Deb Calvert, People First Productivity Solutions
"George Brontén's excellent new book is a practical guide to eliminating the avoidable errors that are preventing sales organizations from achieving their full potential."
— Bob Apollo, Inflexion Point
"Stop Killing Deals" is available on Amazon in paperback and Kindle. Those who wish to get a preview of the book can download the first chapter at stop.killing.deals.
About George Brontén
George Brontén is a life-long entrepreneur with 20 years of experience in the software space and a passion for sales and marketing. With the life motto "Don't settle for mainstream," Brontén is always looking for new ways to achieve improved business results using innovative software, skills and processes. He shares his thoughts on the award-winning blog "Art & Science of Complex Sales."
Source: Membrain
Share: